Frequently Asked Questions
Boy Scouts
Day 1 May 19
Check-in 6pm, End by 9:00pm
Check-in at Horizon Flight Operations 6pm
Receive your ID badge and event passport
Scouts split into 2 classes
Aviation 101 and Aero Charting classes begin at 6PM
Each class takes about 1:15 to complete
All participants will receive a Passport.  All activities are listed on the passport and are categorized.  When a activity is completed the participant will have the category stamped indicating that activity has been completed.  After all categories have been stamped, the participant will receive prizes!
Day 2 May 20
Check in 8:15 - 8:45am
Check-in at Horizon Flight Operations 8:15 - 8:45am
Event opens at 8:45am
Plan to visit each lettered category on your passport
and remember to get your passport stamped.
Merit badge counseling begins at 12:30. Scouts wishing to complete their Aviation Badge are reminded to bring their signed blue card
BRING A SACK LUNCH. Water and a light snack will be provided.
Boy Scout Attendees
This event is considered a BSA High Adventure event. All Scouts attending must be a minimum of 12 years of age and hold the First Class Rank.  All requirements for the Boy Scouts of America Aviation may be accomplished during this program.  See your Scoutmaster and Merit Badge requirements booklet for details.  Remember it is YOUR responsibility to plan your time for the required classroom activities, Aviation 101 and Aero Charting.
The activities for the day will be at the Horizon Airlines Flight Operations Center, the Alaska Airlines Hangar.
Classroom sessions are taught at the high school level.  Special sessions can be arranged for learning disabled student groups.  Contact us via email at PortlandAviationDay@AlaskaAir.com for additional information.
Alaska Airlines Aviation Day is structured more like a career / education fair with an open format.  The Scout participants will be free to choose the activities and spend as much time they wish at each category.  There will be an "Activities Passport" issued at check-in and we strongly encourage each Scout to complete each item listed.  Visit all the events/booths to get each item checked off by the volunteer counselors.  When the passport is completed you'll present it to our onsite Merit Badge Counselors to be tested on the knowledge you have learned.  If successful, you will be given the completed blue cards and earn a special prize.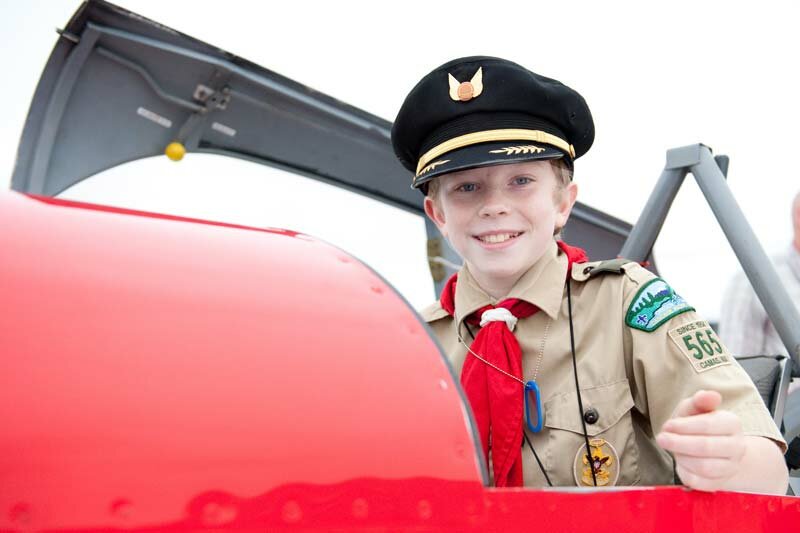 The Boy Scouts will start day 1 at 5:15pm with either the 1:15 hour Aviation 101 or Aero Charting.  These classes  are a vital requirement of the Aviation Merit Badge. Remember there are two scheduled classes, ending by 9pm on May 19.  Each class is limited to 80 Scouts.  The program is in a classroom setting that includes the following:
Introductions
Introduction to Aviation Academics

fundamentals of flight
aviation weather
flight planning
Aviation Merit Badge Day Schedule
Aviation Merit Badge Day schedule is available here
Requirements
Alaska Airlines Aviation Day is a FREE event
All students are required to be chaperoned
All students and chaperones MUST be registered
Minimum age to attend is 12 years old, maximum age is 18
Boy Scout the requirement of First Class rank is MANDATORY

please bring two blank merit badge blue cards with you

EACH PARTICIPANT must bring a PRINTED, SIGNED permission slip to the event.  YOU WILL NOT BE ADMITTED WITHOUT IT!
Registration
Once the registration application is completed and approved you will receive a link to our registration site.
Forms
Boy Scouts Permission and Release Slip    (pdf link)
PDF
Chaperone Permission and Release Slip (pdf link)
PDF
Aviation Merit Badge Workbook (pdf link)
PDF