Get ready to have the best day EVER!
Alaska Airlines Aviation Day is structured like a career / education fair with an open format. The youth participants will be free to choose the activities and lectures they want to attend throughout the day. There will be an "Activities Passport" issued at check-in and we strongly encourage each participant to complete each item listed. To get it completed by the days end each participant will accomplish each activity and get that item checked off by the volunteer counselors. When the passport is completed you'll exchange it for a special prize at the end of the day.
The activities and lectures for the day will be at the Alaska Airlines Flight Operations Training Center and the Alaska Airlines Hanger. The participants will be transported to the various event locations by the Boeing busses and their drivers.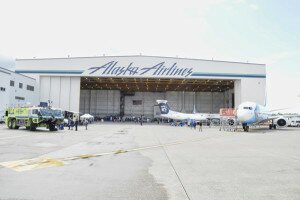 Classroom sessions are taught at the high school level. Special sessions can be arranged for learning disabled student groups. Contact us via email for additional information.
Activities will include: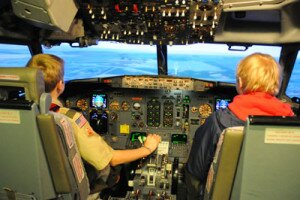 Learn to do an airplane preflight with the pilots that fly them
Tour several Military Aircraft
Build a glider with a Boeing engineer
Test your mechanical skills with Alaska Airlines airplane mechanics
See how a local high school built an airplane with the students of TeenFlight Puyallup
Experience a simulated airplane evacuation with Alaska Airlines flight attendants
Go on a B737 or E175 flight deck tour with an Alaska Airlines pilot
Learn about the composites used on the NEW Boeing 787
Meet FAA air traffic controllers, Port of Seattle Police and Firefighters
Learn how Alaska Airlines is saving jet fuel and lowering its carbon footprint
There will be many MORE special aviation activities
Aviation Career Lectures from:
Alaska Airlines Pilots
Alaska Airlines Flight Attendants
Alaska Airlines Engineers
Alaska Airlines Dispatchers
FAA Air Traffic Controllers
Aviation and Aerospace Education Opportunities from:
Also featuring informational booths from:
United States Armed Services
and MORE!